-Body Treatments-
Body Scrub
Enjoy a Body Scrub with or without a relaxing massage. Body scrubs exfoliate and renew the skin and are followed by a moisturizing lotion or balm.
Scrubs alone $60
with relaxing 50 minute massage $135
Body Luxe Hydrating Wrap
Begin with a full body dry brush exfoliation followed by hydrating warming balm to bind moisture back into the skin. Enjoy a scalp massage while you melt into total body rejuvenation.
LypoSlim Body Wrap
An all-natural, healthy inch-loss, reduces look of cellulite and help detox the body. Size loss comes first from new fat, while the aloe works to soften the older fat and cellulite areas. Sometimes cellulite will require 4-5 wrap treatments to soften these older, hardened fat cells. Each treatment will result in decreasing the softened areas. Fat across the back and areas under the arms lose easily as cellulite in these areas in rare. As inches are lost, the skin will tone and tighten beautifully.
*Product Ingredients: Aloe Vera, Saffron Root, Papaya, Lake Kelp, Cleavers, Oregon Grape Root, Comfrey, Parsley, Chickweed and Lavender
Ear Candling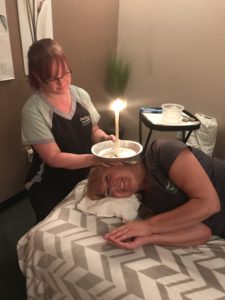 A non-invasive cleansing of the ear. (Not intended to replace medical care) This service helps to regulate sinus pressure, reduces migraines, relieves sinusitis & restores equilibrium.
Gift Cards Available
(discounts not applicable to gift card purchases)