September 
Free Sweet Tea Foot Scrub or Back Scrub Add-on with any Massage!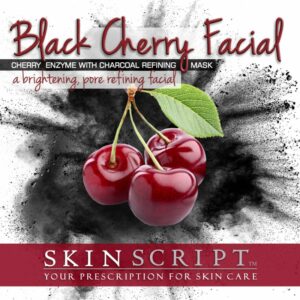 Perfect Facial to END SUMMER WITH!
Skin Conditions:
·         Normal/Combination skin
·         Hyperpigmentation
$90 Sixty minute Facial
$125 Sixty minute Facial with Microdermabrasion
$115 Sixty minute Facial with Lactic Peel
Brightening, softening, detoxing, oil-absorbing, anti-aging all describe this blend of cherries and charcoal. The Cherry Enzyme exfoliates, softens and brightens the skin with 5% lactic acid, 5% mandelic acid, and 1% arbutin and 1% kojic. Charcoal (derived from burnt coconut husks) draws impurities and toxins from the skin, while safflower oil softens the skin and kaolin absorbs oil. Charcoal Refining Mask that will leave your skin purified and nourished.
Cherry Enzyme:
Exfoliate and brighten the skin with the antioxidant and brightening benefits of cherry.  Contains 5% lactic acid, 5% mandelic acid, and 1% arbutin and 1% kojic.  Perfect for normal/combination skin.  It promotes deep hydration and protects from environmental damage while relieving the surface signs of aging.  Arbutin and kojic provide extreme lightening capabilities.
Charcoal Refining Mask:
For normal to oily skin. The Charcoal Refining Mask is formulated with anti-microbial, skin detoxifying and pore cleansing ingredients that clarify and purify skin while aiding in the absorption of excess oil and impurities.
Only one discount can be used per service. Discounts cannot be used to purchase gift cards or towards pre-paid packages.